The following letter came to Midland Council from a resident, Lori St Amant, with a request for a proclamation and to allow the installation of purple ribbons on lamp posts in downtown Midland. At our mid-July meeting I spoke to this "other" pandemic in our community that pre-exists COVID-19 and continues to kill people of all walks of life and all ages in our community and across the country. The mayor issued the proclamation and I hope to see the ribbons installed downtown shortly.
In addition to the proclamation, I support her requests that we allow purple ribbons to be installed downtown and fly our flags at half-mast. We lack the ability to bathe our municipal offices in purple light.
From a personal perspective and stemming from my past career in Municipal Law Enforcement, I have witnessed, first hand, the devastating effects of opioid deaths in our community. Sudden deaths related to overdoes (accidental or intentional) unlike victims of trauma, are not traditionally reported by the media and many of the victims are not the subject of obituary notices and therefore the public lacks some perspective about the sheer number of these deaths.
From my perspective, the problem with opioids is their potency, effectiveness and the fact that without many viable alternatives, the medical profession still relies heavily on these drugs for pain management. As I am sure you already know, often without an exit strategy by their medical care team, people who use these medications will develop both a physiological and psychological dependency that for many can spiral into hopeless addiction. As prescriptions expire some people will turn to the illicit market and the gamble about the quality and potency that ensues.
In addition to those who started their addiction by prescription, recreational drug users have been impacted by the surprising potency of the opioids that get into the illicit market distribution channel, and without NARCAN or other reversal drugs immediately available to them, they can die after only one use of an opioid. Drug users who use alone, or in tandem with others, will have no chance of revival when the sedating effects of the opioid set in. The accidental overdose death numbers in North America are staggering and no community, no matter how small, are free from these statistics.
Midland has lost many residents to opioids over the past decade with usually only family and close friends knowing the cause of death. This website shows the alarming stats for Ontario and our health unit area and perhaps some additional media exposure could help increase awareness about this parallel pandemic.
As a lower-tier municipal government we lack any formal mandate that could meaningfully impact this issue other than a supportive role to the health unit, our hospital and the many services in our community that deal with addictions and the collateral damage to those who suffer from addictions.  If nothing else, we need to raise awareness and help keep the issue in the forefront, much in the same was as we do for homelessness and lack of affordable housing – all areas we have limited to no formal jurisdiction or funding.  It feels rather helpless for me and I will do what I can when the opportunities present themselves to Council.  If you have any ideas about what the Municipality can do in any of these areas, please communicate with us collectively and stay engaged in our public consultation processes such as the EngagingMidland.ca https://engagingmidland.ca/ website.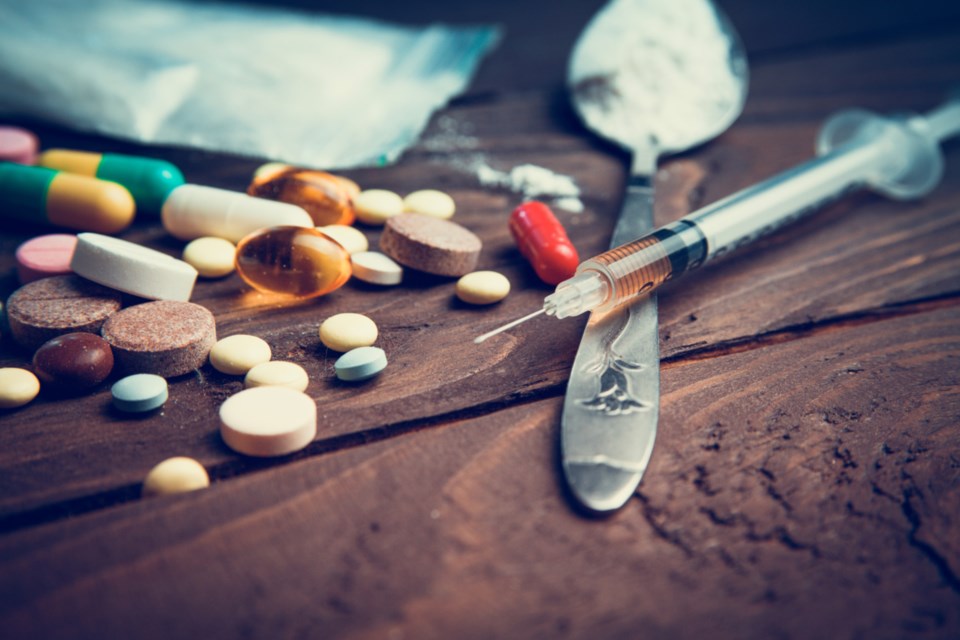 https://www.midlandtoday.ca/local-news/canada-benzo-dope-turning-up-in-unregulated-opioids-4227814
---
This is the letter that Lori sent us (and that appears in the council information package publications on our website)
July 13, 2021
Town Councillors of Midland
As you might know, on August 31, each year ,communities around the world come together to remember those lost to Overdose. As we approach August International Overdose Awareness Day (IOAD) we are looking for your support to help continue to raise awareness to address substance use related stigma, harms and the deaths of our loved ones. This day is about remembering the loved ones that we have lost to Opioids and acknowledging the grief of families and friends left behind. Sadly, in 2020 the city's probable death rate from opioid poisonings rose to 127 in 2020 a 95% increase from the previous year.
Orillia was the highest crude rate 2019-2020 and midland was second.
The opioid crisis, largely driven by toxic drug poisonings, continues to be one of the most devastating public health emergencies of our lifetime. As a result, raising awareness and coming together as a community is more important than ever. Because the evidence is clear: COVID-19 is leading to increased drug-related harms across the city, province and country. It is also clear that COVID-19 is creating enormous challenges for governments and our health care system.
I am hoping that we can count on your support and your voice and that of Council members on this International Overdose Awareness Day. There are many ways that Ottawa can participate. Last year you passed a proclamation in support of IOAD and I would like to thank you for doing so. Given the increase in opioid poisonings, this year communities across the City need your support again. Please consider the following:
• Issue a proclamation recognizing August 31st as International Overdose Awareness Day in Midland, Ont .
* Fly flags at half mass over municipal buildings
* Light up a municipal building in purple lights (the CN tower and other landmarks across the country will be lit up)
Invite the community to light candle to remember loved ones who have passed away to overdose .
Allow us to tie purple ribbons Along the light post in the downtown core.
Midland families need your support!
IOAD may be recognized on August 31 each year, but as someone who has lost a child to substance use harms and overdose from the illicit toxic supply, for me Overdose Awareness Day will be every day for the rest of my life.
"""""PROCLAMATION
WHEREAS, the Municipality of Midland does affirm and acknowledge the harm and hardship caused by drug overdose; and
WHEREAS, we recognize the purpose of International Overdose Awareness Day as remembering loved ones lost to overdose and ending the stigma of drug-related deaths; and
WHEREAS, we resolve to play our part in reducing the toll of overdose in our community, which claimed the lives of more than loved ones in 2020 together with countless more affected forever; and
WHEREAS, we affirm that the people affected by overdose are our sons and daughters, our mothers and fathers, our brothers and sisters, and deserving of our love, compassion and support;
THEREFORE, I, Stewart Strathearn, Mayor, do hereby proclaim August 31st, 2021 as Overdose Awareness Day in Midland. """"
I became a member of Moms Stop The Harm (MSTH) to advocate for change and raise awareness to end Overdose.
Moms Stop The Harm is a network of Canadian families impacted by substance use related harms and deaths. We advocate to change failed drug policies and provide peer support to grieving families and those with loved ones who use or have used substances. Our mission is to end substance use related stigma, harms and the deaths of our loved ones. Our vision calls for the end of the failed war on drugs through evidence based prevention,
treatment and policy change; we support a harm reduction approach that is both compassionate and non discriminatory for people who use substances.
Together we can make a difference this International Overdose Awareness Day. We need your support and your voice on this important initiative. Please consider wearing a purple ribbon to raise awareness and start a conversation.
This is ongoing each year .
Time To Remember Time to Act,
Sincerely,
Lori St Amant
Moms Stop The Harm
I am the mother of a child who died as a result of opiods.
Born and raised in Midland, the opioid epidemic is killing the children of our communities.
If you could , please put this on your website so we bring Grieving families together to mourn their loved one .
This is our town, and we need to bring awareness to our community
Please don't let us bury another child!

https://www.overdoseday.com/